This is the Future of Meetings!
July 7, 2022
The pandemic has escalated the growth of new technologies and products that make remote work hassle-free. At the start of the pandemic, it was just online meetings via Zoom or Google Meet but afterward, it came to a situation where we needed more than just video meetings where we could share our screens. To adjust and to be productive in this new normal, companies started to search for solutions that could drive their growth and even support their workforce. And many of the immersive technologies based remote solutions are now built and designed with this requirement in mind.
What is the Future of Meetings?
We wouldn't have discussed the future of meetings for the next few years if there was no pandemic. Pandemic had an upper hand in the acceleration of new solutions. So, what will be the future of meetings, or which technologies will play a role in future meetings? Let's check out.
Omnichannel Meetings
Omnichannel meetings are sure to be a part of the meetings of the future. Now, after the pandemic, when most organizations and businesses chose hybrid over complete remote work, remote meetings, as well as in-person meetings, are to be a part of the future ie the method in which how a person attends the meeting won't matter anymore.
For example, there can be meetings where some of the team members might participate virtually and the rest attending it in person. And such meetings will only be possible through immersive technologies like augmented reality and virtual reality which makes the remote attendees feel like they are in the same meeting room. Future meetings will break down all location barriers.
Holographic Meetings
What if we could attend the meetings remotely but virtually in person through our avatars? Sounds interesting right? The other attendees can interact and engage with your 3D avatar just like you are in the room. Your avatar can lead meetings, share and receive ideas, and even do all the hand and body gestures as you usually do.
What Possibilities Does the Future of Meetings Bring?
Immersive technologies bring a lot of scope to the future of meetings. Meetings of the future are going to be more flexible, relaxed, and even more productive and efficient. Now, let's check out the benefits immersive meetings can bring.
• Collaboration across boundaries
• Reducing costs associated with travelling to join meetings
• Attend meetings with more flexibility
• Understand new technology and adapt to it
• Chance to learn digital skills more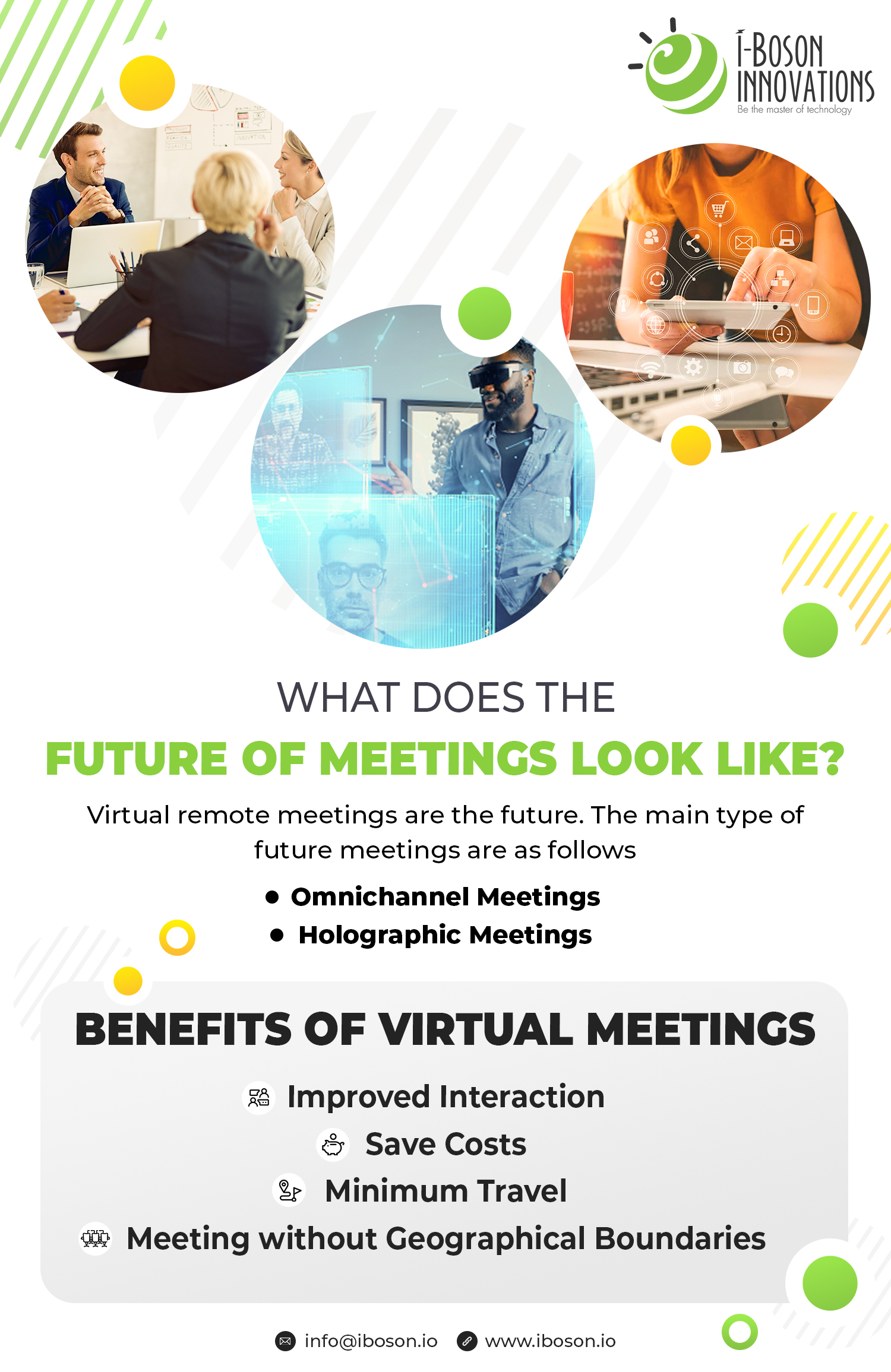 Final Thoughts
The hybrid and holographic meetings are here to stay for the future. And if you are a business or an enterprise you need to understand that the workforce is also shifting post-pandemic which means the workers now demand a more flexible and comfortable work environment. And for that, you need to provide them with immersive solutions. Mail us to info@iboson.io if you require immersive augmented reality solutions for your business.